Pacific School of Religion
Faculty in Practical Theology, Education, Spiritual Formation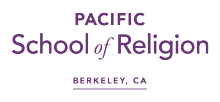 Pacific School of Religion (PSR)
Assistant Professor in Practical Theology, Education, and Spiritual Formation
PSR is seeking a faculty member to teach courses in Practical Theology, Religious Education, and Spiritual Formation. We are seeking innovative theological educators who embrace robust interdisciplinarity in their teaching and scholarship to reimagine theological education and the role of faculty in facilitating it.  This is a three-year, renewable, non-tenure track position, with rank open based on experience.
Pacific School of Religion (PSR) is a progressive, multi-denominational seminary and center for social justice that prepares leaders to work for the well-being of all people and creation. Located in the San Francisco Bay Area and adjacent to the University of California at Berkeley campus, PSR is a member of the Graduate Theological Union (GTU), an ecumenical and interfaith consortium of seminaries, centers, and institutes. Visit the website at www.psr.edu. PSR is an Equal Opportunity/Affirmative Action Employer.
Courses to be taught may include courses in practical theology, religious education, homiletics, pastoral theology or ethics. The use of technology and online instruction for courses is necessary. The faculty colleague is expected to publish creative and rigorous scholarship, addressing issues facing communities of color, LGBTQI communities, and communities that are economically disadvantaged.
Essential duties and responsibilities include participation in PSR's community life, teaching, advising, and commitment to PSR's innovative curriculum and educational models. As a practical theologian, the colleague's presence at worship, service in the ministry of Word and Sacrament through occasional preaching and presiding is important. Active participation in the life of the school as committee member, commitment to the mission of the school, and contributions to activities and events that advance the mission of the school are essential.
We are seeking candidates with a PhD or equivalent, who have a demonstrated commitment to diversity, academic excellence, creativity in teaching, community building, and meaningful connections with historically under-represented groups and institutions. Language skills in addition to English, particularly in Spanish or Korean, are highly desirable. Persons from underrepresented groups within the profession are especially encouraged to apply.
Applicants should submit a cover letter, CV, and three professional references. These materials can be sent to Professor Sharon Fennema, Pacific School of Religion by email: [email protected]. A fuller description of the position may be found https://psr.edu/about/jobs/#0e63a676zl.
Applications are due by October 26, 2018 to be considered for preliminary interviews at the AAR/SBL meetings in Denver in November.  Persons who apply for this position should be available for teaching in the Fall of 2019.