Pacific School of Religion
Faculty in the Practice of Ministry and Community Engaged Learning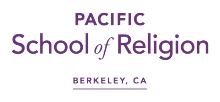 Pacific School of Religion (PSR)
Faculty in the Practice of Ministry and Director of CEL
PSR is seeking a faculty member to teach and lead the Office of Community Engaged Learning (CEL).  Through teaching and program and curriculum development, CEL coordinates field internships in religious, not-for-profit, and private sector organizations; domestic and international immersion intensives; and PSR's online community education classes, Theological Education for Leadership (TEL). This is a three-year, renewable, non-tenure track position. The faculty person will engage in the life of the school through teaching, research, advising, committee work, and contributions to activities and events that advance the mission of the school. Rank is negotiable depending on experience and other qualifications.
Pacific School of Religion (PSR) is a progressive, multi-denominational seminary and center for social justice that prepares leaders to work for the well-being of all people and creation. Located in the San Francisco Bay Area and adjacent to the University of California at Berkeley campus, PSR is a member of the Graduate Theological Union (GTU), an ecumenical and interfaith consortium of seminaries, centers, and institutes. Visit the website at www.psr.edu. PSR is an Equal Opportunity/Affirmative Action Employer.
As Faculty in the Practice of Ministry (approximately 40% of the position), the faculty colleague will teach courses to graduate students and theory and practice of mentoring and leadership to field site supervisors.  PSR is seeking innovative theological educators who embrace robust interdisciplinarity in their teaching and scholarship to reimagine theological education and the role of faculty in facilitating it. Candidates should have a strong sense of mission, formation, and vocation in their professional identity.  The faculty is expected to engage in creative and rigorous scholarship, addressing issues facing communities of color, LGBTQI communities, and communities that are economically disadvantaged.
As Director of CEL (approximately 60% of the position), the colleague will lead a team and manage a network of partners in faith communities and social, private, and government sectors.  We are seeking candidates with demonstrated commitment to diversity, academic excellence, community building, and meaningful connections with faith communities, social action networks, and historically under-represented groups and institutions.
A Master of Divinity is required, PhD or equivalent is desired.  Superior interpersonal, organizational, and communication skills are necessary.  Possessing technological and media skills that can contribute to digital learning are greatly valued.  Language skills in addition to English, especially in Spanish or Korean, are highly desirable. Persons belonging to underrepresented groups are especially encouraged to apply.
Applicants should submit a cover letter, CV, and three professional references. These materials can be sent to Professor Inese Radzins, Pacific School of Religion [email protected]. A fuller description of the position can be found here: https://psr.edu/about/jobs/#fe2931d8zp
Applications are due by October 26, 2018 to be considered for preliminary interviews at the AAR/SBL meetings in Denver in November.  Persons who apply for this position should be available for teaching in the Fall of 2019.